I was reading a volume of John Gerhard's 17 volume magnum opus
Theological Commonplaces
in bed the other night - as you do, especially when your wife is away for the week! - and came across the following gem which touches upon the noetic effects of sin and the cure, as well as other weighty spiritual matters. Gerhard is drawing out the application of two scripture passages, Romans 15:4 and 2 Timothy 3:16, which I quote first from the ESV:
For whatever was written in former days was written for our instruction, that through endurance and through the encouragement of the Scriptures we might have hope. Romans 15:4 (ESV Anglicised)
All Scripture is breathed out by God and profitable for teaching, for reproof, for correction, and for training in righteousness…2 Timothy 3:16 (ESV Anglicised)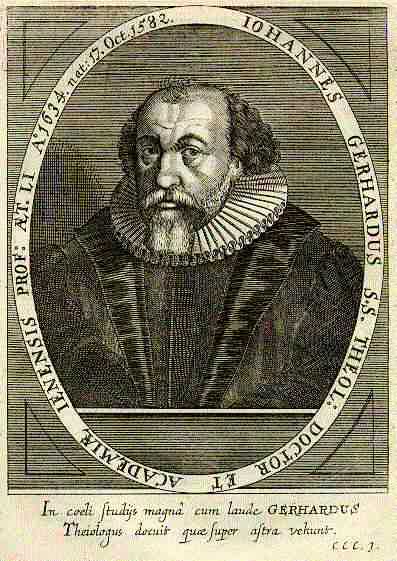 "The human race is subject to a threefold malady and evil through and because of original sin. In true knowledge, we are blind and ignorant; in good action, remiss and lacking; in tolerance of evil, weak and impatient. Scripture remedies that first malady with "teaching"; the second with "instruction in righteousness"; the third, with "encouragement". Not only are we blind and ignorant in the matter of true knowledge but we also are prone and rash to think up or embrace errors. This malady scripture remedies with "reproof". Not only are we remiss and lacking in the matter of good action, but we also have an immediate proclivity for doing evil. This malady scripture cures with "correction".
On the other hand there are three responsibilities for the truly devout person: to know the truth, to do good, to endure evil. Consequently, we also count three special cardinal virtues of the Christian person: "faith, hope and love". Faith is related to a knowledge of the truth; love to the doing of good; hope, to the endurance of evil. However, because a knowledge of the truth does not exist without the removal of that which is untrue, because doing good has no place unless there is a departure from evil or sin, consequently there are five responsibilities altogether that are required in the perfection of Christian holiness: teaching and reproof for a knowledge of the truth, instruction in righteousness and correction for doing good, and encouragement for the patient endurance of evil. For all these scripture is not only useful but is also sufficient, so one may deservedly say that it makes one complete."
John Gerhard, Theological Commonplaces: On the Nature of Theology and Scripture, p328 of the CPH edition (trans. R. Dinda; St Louis 2006).
Like all the best theology, Gerhard does not just instruct, he also edifies and leads the student to meditation and doxology.
For the uninitiated, the Wikipedia entry on Gerhard can be found
here
.
The CPH edition of the English translation of Gerhard's Theological Commonplaces, projected to extend to 15 volumes, is to my mind perhaps the most momentous event in Anglo-Lutheran publishing since the American Edition of Luther's Works appeared upon the scene.